Choosing the starting location it's the first challenge
Project Zomboid is a real survival game where you will die a lot and learn from your mistakes. The first challenge you will face is knowing the best location to start in Project Zomboid. You have four regions to choose from, each one with its pros and cons, and the game don't give you any clue about that, we are here to help with that.
Meanwhile don't forget to check our other guides to help you survive the horror of the zombie apocalypse. Like the best Mods for Project Zomboid to enhance the experience in the game or just make it more fun.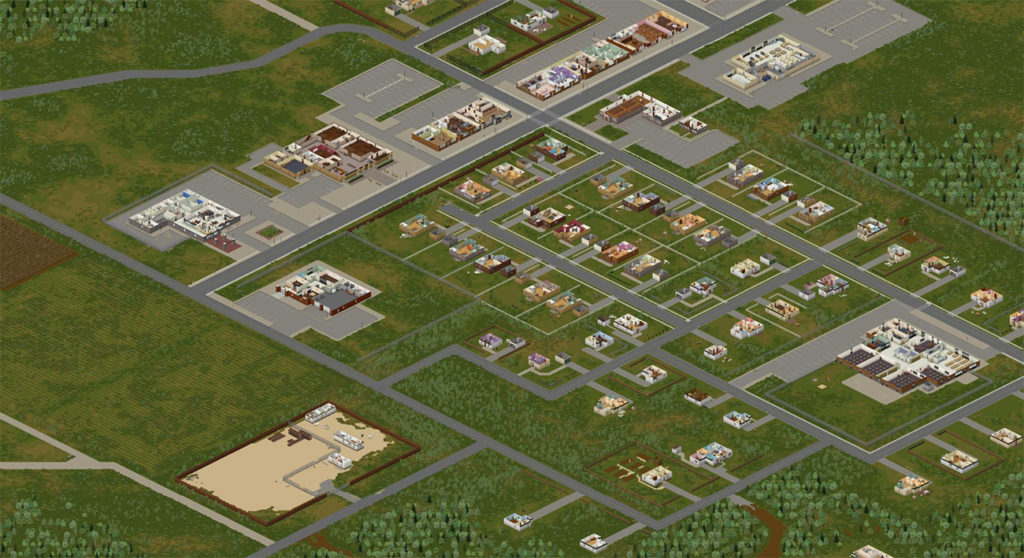 Best Location to Start in Project Zomboid
We present you with not one but two starting locations at Project Zomboid, depending on your skill. For the New Players, we recommend Rosewood, it's a perfect place to get used to the game. For Pro Players the choice goes to Muldraugh, it's more challenging but it has all that is needed for the veteran players to start their journey.
Rosewood (New Players)
If you are new to Project Zomboid the best location for you to start it's definitely Rosewood. The main factor is the low zombie population in this region, ideal to get used in surviving the apocalypse.
The majority of spawn points in Rosewood are safe and with good loot nearby to start. You have important buildings to loot, an Police Station, and a Fire Station side by side. A Construction Site with some important loot, like a propane barbecue. A School whit a library full of books to learn new skills.
In Rosewood you have plenty of good places for shelter, like a few isolated farmhouses outside the town. The Fire Station and a Fenced House are even on our list of the best base locations in Project Zomboid.
Muldraugh (Pro Players)
In Muldraugh you find much better loot but at the cost of a significantly bigger number of zombies. So this location is great to start, for Veteran Players, who know how to survive.
Most of the spawn points are safe, in gated houses, you know fences are the best to keep the undead away. You have a lot of industrial warehouses where you can find the best loot, like good weapons and gear. There is a medical center that contains a huge amount of medical supplies. There are many bars and restaurants where you can search for food. There are numerous parking lots where you maybe find a working car.
Is also in Muldraugh where you have two great locations to build a base to survive the apocalypse, in an Isolated House and in a Large Warehouse.