Celebrate Valentine's Day in Los Santos with the new Classique Broadway Muscle Car
It's time for a new GTA Online weekly update, and this week we have a new car. It is the Classique Broadway and is now available for purchase from Southern San Andreas Super Autos. As usual, players have a new set of discounts and bonus rewards opportunities to get extra cash.
For this week we have the 8F Drafter as a reward in The Car Meet Prize Ride. To get it you need to place in the top 1 in Street Races 2 days in a row.
If you are feeling lucky this week the Roosevelt is featured on the Diamond Casino Lucky Wheel rewards, this car is available in Legendary Motorsport for $750,000.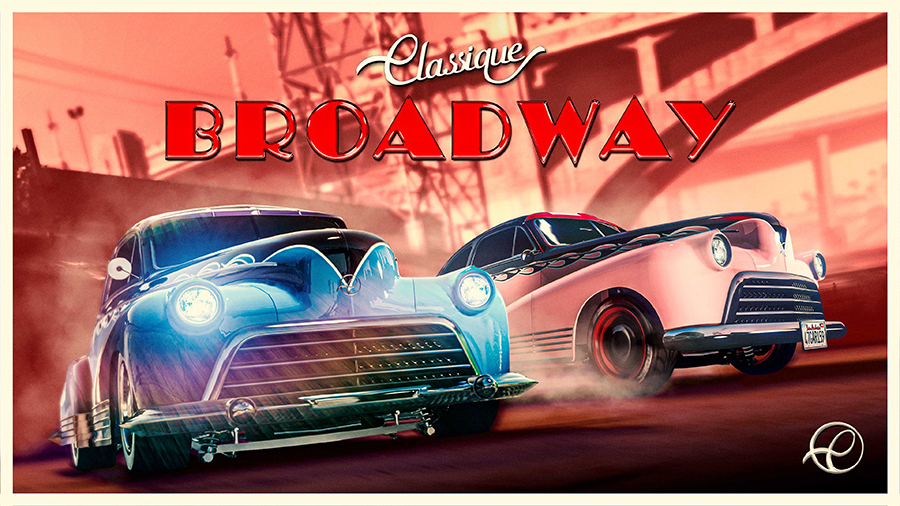 Luxury Autos cars
Simeon's Showroom cars
Roosevelt Valor
Broadway
Entity MT
Zion Classic
Peyote Gasser
2x GTA$ and RP on GTA Online
If you want to maximize your cash and RP gains then this week has the following activities.
3x RP and GTA$:
Till Death Do Us Part
Shotgun Wedding DM
2x RP and GTA$:
6 New Community Series Modes
GTA Online discounts
Free:
50% off:
Arcade Games
Be My Valentine Suit Jackets and Dresses
35% off:
Arcades
Peyote Gasser
Roosevelt Valor
25% off:
Gun Van
This week you can find the following in Gun Van vendor. Remember, it changes location every day, check here the Gun Van locations in GTA Online.
Gusenberg Sweeper (free this week)
Marksman Pistol
Sawed-Off Shotgun
Railgun
Widowmaker (35% off for GTA+ Members)
Compact Grenade Launcher (30% off)
Molotovs
Sticky Bombs
Pipe Bombs
Knife (including the Trippy Knife skin for GTA+ Members)
Baseball Bat (and Trippy Baseball Bat skin for GTA+ Members)