The truth is out there
The UFOs are back in the skies of Los Santos and Blaine County. Until the end of the month, they will appear every day in different places. Make sure you have your phone ready to take a photo of them and get special clothes, RP, and GTA$ rewards in GTA Online. But be careful, don't get too close or they run away.
This is part of this year's Halloween event where you also need to find Jack o' Lantern locations, a temporary collectible. Here we leave the calendar with the UFOs locations in GTA Online.
Where find UFOs in GTA Online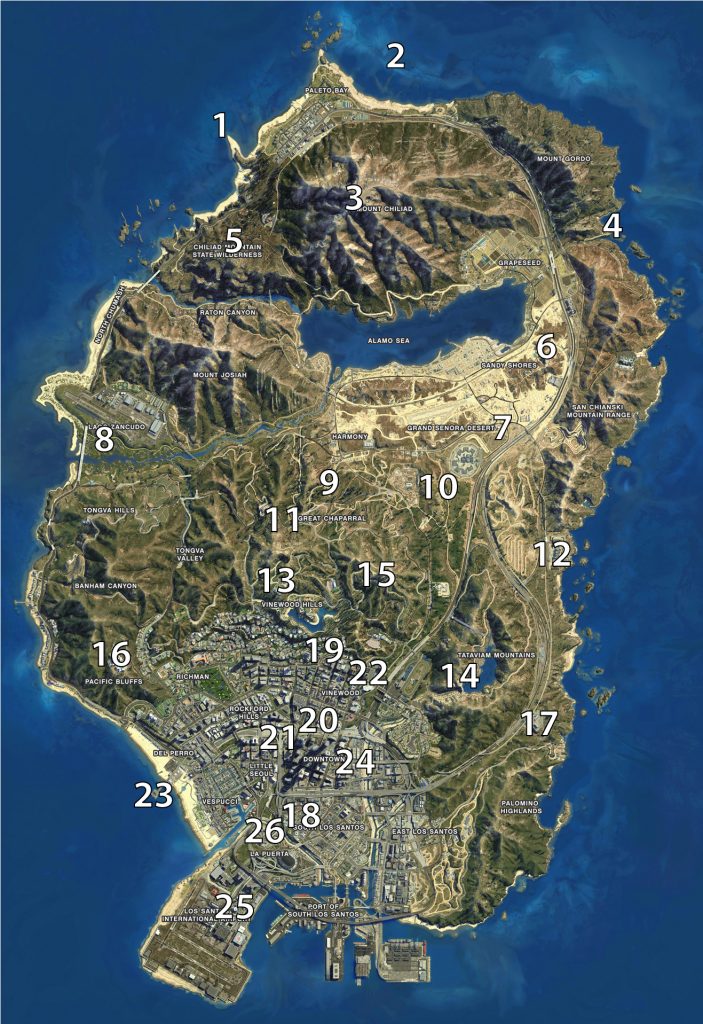 In the map are marked all locations on UFOs that will spawn around Los Santos and Blaine County during the GTA Online Halloween event. The location changes every day in real life. Below you can see the calendar.
October 13 – 1 (Paleto Forest)
October 14 – 2 (Pacific Ocean)
October 15 – 3 (Mount Chiliad)
October 16 – 4 (El Gordo Lighthouse)
October 17 – 5 (Altruist Camp)
October 18 – 6 (Silent Probe Mountain)
October 19 – 7 (Satellite Relay Station)
October 20 – 8 (Lago Zancudo)
October 21 – 8, 9 (Lago Zancudo & Great Chaparral Shack)
October 22 – 10 (Grand Senora Desert)
October 23 – 11 (Great Chaparral Farm)
October 24 – 12 (Palmer-Taylor Power Station)
October 25 – 1, 2, 3
October 26 – 5, 8, 11
October 27 – 6, 10, 12
October 28 – 13, 17 North Los Santos
October 29 – 13, 26 Vinewood Hills & La Puerta
To see the UFOs you simply need to go to the day's location. They only appear at night, between 10 pm and 3 am on the in-game clock. Don't get too close or he disappears in a crash of thunder and lightning. If that happens you can come back on the next in-game night.
As you can see, in the first 12 days of this Halloween event only 1 ship appears daily. On October 21 will be a military UFO over Fort Zancudo. On the final days, they spawn on multiple locations and finally on October 29, all over the Los Santos skies.
GTA Online UFOs rewards
When you see a UFO, you should take a picture of it with your cell phone and send it to Omega. You will receive 1000 RP and GTA$15,000 for each ship. In the case of the military ship, the value goes up to GTA$ 50,000.
Send the photos of all UFOs during the event gives a bonus of GTA$50,000 and unlock Glow, Black, and Gray Believe Cap. On the last day when spaceships are all over Los Santos, they won't disappear when you get close. If you enter a UFO beam you'll be abducted and come back wearing the UFO Boxer Shorts.
What is not temporary are the LD Organics products in GTA Online, find them all to get extra cash and RP.