Where Terminal Overload takes place today?
Destiny 2 Lightfall brings a new public activity, the Terminal Overload. This is a challenging public event in Neomuna, but it changes locations daily, as well as the rewards. Here we leave the Terminal Overload daily rotation for the entire year.
Before you can get into it you need to complete the Destiny 2 Lightfall campaign. The activity is shown on the Neomuna map and you can even fast travel to it. Terminal Overload is a challenging activity divided into stages, like the old Escalation Protocol, if you play solo don't worry, it's public so there will be other guardians.
That's the best place to farm Strand Meditations and you also need to complete this activity sometimes during the new exotic quests. To ensure you are ready for this challenge check here the best Osteo Striga Strand Build in Destiny 2.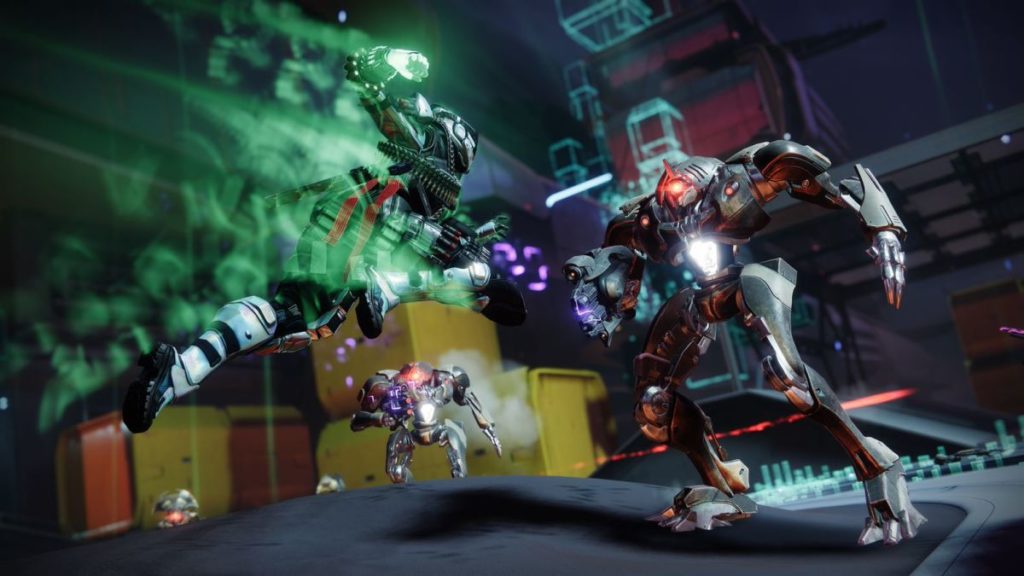 Destiny 2 Terminal Overload rotation
The location of the Terminal Overload public event in Destiny 2 changes every day, rotating between Ahimsa Park, Zephyr Concourse, and Liming Harbor. Each day there is also a different reward:
Zephyr Concourse – Synchronic Roulette – Strand submachine gun
Liming Harbour – Circular Logic – Strand heavy machine gun
Ahimsa Park – Basso Ostinato – Void shotgun
Before you go, don't forget to check that you have Terminal Overload Keys in your inventory, to open the second chest.
The following tables will be updated in case of any future changes on the Destiny 2 Terminal Overload Daily Rotation.
| March | Weapon | Location |
| --- | --- | --- |
| Mar-01 | Basso Ostinato | Zephyr Concourse |
| Mar-02 | Synchronic Roulette | Liming Harbor |
| Mar-03 | Circular Logic | Ahimsa Park |
| Mar-04 | Basso Ostinato | Zephyr Concourse |
| Mar-05 | Synchronic Roulette | Liming Harbor |
| Mar-06 | Circular Logic | Ahimsa Park |
| Mar-07 | Basso Ostinato | Zephyr Concourse |
| Mar-08 | Synchronic Roulette | Liming Harbor |
| Mar-09 | Circular Logic | Ahimsa Park |
| Mar-10 | Basso Ostinato | Zephyr Concourse |
| Mar-11 | Synchronic Roulette | Liming Harbor |
| Mar-12 | Circular Logic | Ahimsa Park |
| Mar-13 | Basso Ostinato | Zephyr Concourse |
| Mar-14 | Synchronic Roulette | Liming Harbor |
| Mar-15 | Circular Logic | Ahimsa Park |
| Mar-16 | Basso Ostinato | Zephyr Concourse |
| Mar-17 | Synchronic Roulette | Liming Harbor |
| Mar-18 | Circular Logic | Ahimsa Park |
| Mar-19 | Basso Ostinato | Zephyr Concourse |
| Mar-20 | Synchronic Roulette | Liming Harbor |
| Mar-21 | Circular Logic | Ahimsa Park |
| Mar-22 | Basso Ostinato | Zephyr Concourse |
| Mar-23 | Synchronic Roulette | Liming Harbor |
| Mar-24 | Circular Logic | Ahimsa Park |
| Mar-25 | Basso Ostinato | Zephyr Concourse |
| Mar-26 | Synchronic Roulette | Liming Harbor |
| Mar-27 | Circular Logic | Ahimsa Park |
| Mar-28 | Basso Ostinato | Zephyr Concourse |
| Mar-29 | Synchronic Roulette | Liming Harbor |
| Mar-30 | Circular Logic | Ahimsa Park |
| Mar-31 | Basso Ostinato | Zephyr Concourse |
| April | Weapon | Location |
| Apr-01 | Synchronic Roulette | Liming Harbor |
| Apr-02 | Circular Logic | Ahimsa Park |
| Apr-03 | Basso Ostinato | Zephyr Concourse |
| Apr-04 | Synchronic Roulette | Liming Harbor |
| Apr-05 | Circular Logic | Ahimsa Park |
| Apr-06 | Basso Ostinato | Zephyr Concourse |
| Apr-07 | Synchronic Roulette | Liming Harbor |
| Apr-08 | Circular Logic | Ahimsa Park |
| Apr-09 | Basso Ostinato | Zephyr Concourse |
| Apr-10 | Synchronic Roulette | Liming Harbor |
| Apr-11 | Circular Logic | Ahimsa Park |
| Apr-12 | Basso Ostinato | Zephyr Concourse |
| Apr-13 | Synchronic Roulette | Liming Harbor |
| Apr-14 | Circular Logic | Ahimsa Park |
| Apr-15 | Basso Ostinato | Zephyr Concourse |
| Apr-16 | Synchronic Roulette | Liming Harbor |
| Apr-17 | Circular Logic | Ahimsa Park |
| Apr-18 | Basso Ostinato | Zephyr Concourse |
| Apr-19 | Synchronic Roulette | Liming Harbor |
| Apr-20 | Circular Logic | Ahimsa Park |
| Apr-21 | Basso Ostinato | Zephyr Concourse |
| Apr-22 | Synchronic Roulette | Liming Harbor |
| Apr-23 | Circular Logic | Ahimsa Park |
| Apr-24 | Basso Ostinato | Zephyr Concourse |
| Apr-25 | Synchronic Roulette | Liming Harbor |
| Apr-26 | Circular Logic | Ahimsa Park |
| Apr-27 | Basso Ostinato | Zephyr Concourse |
| Apr-28 | Synchronic Roulette | Liming Harbor |
| Apr-29 | Circular Logic | Ahimsa Park |
| Apr-30 | Basso Ostinato | Zephyr Concourse |
| May | Weapon | Location |
| May-01 | Synchronic Roulette | Liming Harbor |
| May-02 | Circular Logic | Ahimsa Park |
| May-03 | Basso Ostinato | Zephyr Concourse |
| May-04 | Synchronic Roulette | Liming Harbor |
| May-05 | Circular Logic | Ahimsa Park |
| May-06 | Basso Ostinato | Zephyr Concourse |
| May-07 | Synchronic Roulette | Liming Harbor |
| May-08 | Circular Logic | Ahimsa Park |
| May-09 | Basso Ostinato | Zephyr Concourse |
| May-10 | Synchronic Roulette | Liming Harbor |
| May-11 | Circular Logic | Ahimsa Park |
| May-12 | Basso Ostinato | Zephyr Concourse |
| May-13 | Synchronic Roulette | Liming Harbor |
| May-14 | Circular Logic | Ahimsa Park |
| May-15 | Basso Ostinato | Zephyr Concourse |
| May-16 | Synchronic Roulette | Liming Harbor |
| May-17 | Circular Logic | Ahimsa Park |
| May-18 | Basso Ostinato | Zephyr Concourse |
| May-19 | Synchronic Roulette | Liming Harbor |
| May-20 | Circular Logic | Ahimsa Park |
| May-21 | Basso Ostinato | Zephyr Concourse |
| May-22 | Synchronic Roulette | Liming Harbor |
| May-23 | Circular Logic | Ahimsa Park |
| May-24 | Basso Ostinato | Zephyr Concourse |
| May-25 | Synchronic Roulette | Liming Harbor |
| May-26 | Circular Logic | Ahimsa Park |
| May-27 | Basso Ostinato | Zephyr Concourse |
| May-28 | Synchronic Roulette | Liming Harbor |
| May-29 | Circular Logic | Ahimsa Park |
| May-30 | Basso Ostinato | Zephyr Concourse |
| May-31 | Synchronic Roulette | Liming Harbor |
| June | Weapon | Location |
| Jun-01 | Circular Logic | Ahimsa Park |
| Jun-02 | Basso Ostinato | Zephyr Concourse |
| Jun-03 | Synchronic Roulette | Liming Harbor |
| Jun-04 | Circular Logic | Ahimsa Park |
| Jun-05 | Basso Ostinato | Zephyr Concourse |
| Jun-06 | Synchronic Roulette | Liming Harbor |
| Jun-07 | Circular Logic | Ahimsa Park |
| Jun-08 | Basso Ostinato | Zephyr Concourse |
| Jun-09 | Synchronic Roulette | Liming Harbor |
| Jun-10 | Circular Logic | Ahimsa Park |
| Jun-11 | Basso Ostinato | Zephyr Concourse |
| Jun-12 | Synchronic Roulette | Liming Harbor |
| Jun-13 | Circular Logic | Ahimsa Park |
| Jun-14 | Basso Ostinato | Zephyr Concourse |
| Jun-15 | Synchronic Roulette | Liming Harbor |
| Jun-16 | Circular Logic | Ahimsa Park |
| Jun-17 | Basso Ostinato | Zephyr Concourse |
| Jun-18 | Synchronic Roulette | Liming Harbor |
| Jun-19 | Circular Logic | Ahimsa Park |
| Jun-20 | Basso Ostinato | Zephyr Concourse |
| Jun-21 | Synchronic Roulette | Liming Harbor |
| Jun-22 | Circular Logic | Ahimsa Park |
| Jun-23 | Basso Ostinato | Zephyr Concourse |
| Jun-24 | Synchronic Roulette | Liming Harbor |
| Jun-25 | Circular Logic | Ahimsa Park |
| Jun-26 | Basso Ostinato | Zephyr Concourse |
| Jun-27 | Synchronic Roulette | Liming Harbor |
| Jun-28 | Circular Logic | Ahimsa Park |
| Jun-29 | Basso Ostinato | Zephyr Concourse |
| Jun-30 | Synchronic Roulette | Liming Harbor |
| July | Weapon | Location |
| Jul-01 | Circular Logic | Ahimsa Park |
| Jul-02 | Basso Ostinato | Zephyr Concourse |
| Jul-03 | Synchronic Roulette | Liming Harbor |
| Jul-04 | Circular Logic | Ahimsa Park |
| Jul-05 | Basso Ostinato | Zephyr Concourse |
| Jul-06 | Synchronic Roulette | Liming Harbor |
| Jul-07 | Circular Logic | Ahimsa Park |
| Jul-08 | Basso Ostinato | Zephyr Concourse |
| Jul-09 | Synchronic Roulette | Liming Harbor |
| Jul-10 | Circular Logic | Ahimsa Park |
| Jul-11 | Basso Ostinato | Zephyr Concourse |
| Jul-12 | Synchronic Roulette | Liming Harbor |
| Jul-13 | Circular Logic | Ahimsa Park |
| Jul-14 | Basso Ostinato | Zephyr Concourse |
| Jul-15 | Synchronic Roulette | Liming Harbor |
| Jul-16 | Circular Logic | Ahimsa Park |
| Jul-17 | Basso Ostinato | Zephyr Concourse |
| Jul-18 | Synchronic Roulette | Liming Harbor |
| Jul-19 | Circular Logic | Ahimsa Park |
| Jul-20 | Basso Ostinato | Zephyr Concourse |
| Jul-21 | Synchronic Roulette | Liming Harbor |
| Jul-22 | Circular Logic | Ahimsa Park |
| Jul-23 | Basso Ostinato | Zephyr Concourse |
| Jul-24 | Synchronic Roulette | Liming Harbor |
| Jul-25 | Circular Logic | Ahimsa Park |
| Jul-26 | Basso Ostinato | Zephyr Concourse |
| Jul-27 | Synchronic Roulette | Liming Harbor |
| Jul-28 | Circular Logic | Ahimsa Park |
| Jul-29 | Basso Ostinato | Zephyr Concourse |
| Jul-30 | Synchronic Roulette | Liming Harbor |
| Jul-31 | Circular Logic | Ahimsa Park |
| August | Weapon | Location |
| Aug-01 | Basso Ostinato | Zephyr Concourse |
| Aug-02 | Synchronic Roulette | Liming Harbor |
| Aug-03 | Circular Logic | Ahimsa Park |
| Aug-04 | Basso Ostinato | Zephyr Concourse |
| Aug-05 | Synchronic Roulette | Liming Harbor |
| Aug-06 | Circular Logic | Ahimsa Park |
| Aug-07 | Basso Ostinato | Zephyr Concourse |
| Aug-08 | Synchronic Roulette | Liming Harbor |
| Aug-09 | Circular Logic | Ahimsa Park |
| Aug-10 | Basso Ostinato | Zephyr Concourse |
| Aug-11 | Synchronic Roulette | Liming Harbor |
| Aug-12 | Circular Logic | Ahimsa Park |
| Aug-13 | Basso Ostinato | Zephyr Concourse |
| Aug-14 | Synchronic Roulette | Liming Harbor |
| Aug-15 | Circular Logic | Ahimsa Park |
| Aug-16 | Basso Ostinato | Zephyr Concourse |
| Aug-17 | Synchronic Roulette | Liming Harbor |
| Aug-18 | Circular Logic | Ahimsa Park |
| Aug-19 | Basso Ostinato | Zephyr Concourse |
| Aug-20 | Synchronic Roulette | Liming Harbor |
| Aug-21 | Circular Logic | Ahimsa Park |
| Aug-22 | Basso Ostinato | Zephyr Concourse |
| Aug-23 | Synchronic Roulette | Liming Harbor |
| Aug-24 | Circular Logic | Ahimsa Park |
| Aug-25 | Basso Ostinato | Zephyr Concourse |
| Aug-26 | Synchronic Roulette | Liming Harbor |
| Aug-27 | Circular Logic | Ahimsa Park |
| Aug-28 | Basso Ostinato | Zephyr Concourse |
| Aug-29 | Synchronic Roulette | Liming Harbor |
| Aug-30 | Circular Logic | Ahimsa Park |
| Aug-31 | Basso Ostinato | Zephyr Concourse |
| September | Weapon | Location |
| Sep-01 | Synchronic Roulette | Liming Harbor |
| Sep-02 | Circular Logic | Ahimsa Park |
| Sep-03 | Basso Ostinato | Zephyr Concourse |
| Sep-04 | Synchronic Roulette | Liming Harbor |
| Sep-05 | Circular Logic | Ahimsa Park |
| Sep-06 | Basso Ostinato | Zephyr Concourse |
| Sep-07 | Synchronic Roulette | Liming Harbor |
| Sep-08 | Circular Logic | Ahimsa Park |
| Sep-09 | Basso Ostinato | Zephyr Concourse |
| Sep-10 | Synchronic Roulette | Liming Harbor |
| Sep-11 | Circular Logic | Ahimsa Park |
| Sep-12 | Basso Ostinato | Zephyr Concourse |
| Sep-13 | Synchronic Roulette | Liming Harbor |
| Sep-14 | Circular Logic | Ahimsa Park |
| Sep-15 | Basso Ostinato | Zephyr Concourse |
| Sep-16 | Synchronic Roulette | Liming Harbor |
| Sep-17 | Circular Logic | Ahimsa Park |
| Sep-18 | Basso Ostinato | Zephyr Concourse |
| Sep-19 | Synchronic Roulette | Liming Harbor |
| Sep-20 | Circular Logic | Ahimsa Park |
| Sep-21 | Basso Ostinato | Zephyr Concourse |
| Sep-22 | Synchronic Roulette | Liming Harbor |
| Sep-23 | Circular Logic | Ahimsa Park |
| Sep-24 | Basso Ostinato | Zephyr Concourse |
| Sep-25 | Synchronic Roulette | Liming Harbor |
| Sep-26 | Circular Logic | Ahimsa Park |
| Sep-27 | Basso Ostinato | Zephyr Concourse |
| Sep-28 | Synchronic Roulette | Liming Harbor |
| Sep-29 | Circular Logic | Ahimsa Park |
| Sep-30 | Basso Ostinato | Zephyr Concourse |
| October | Weapon | Location |
| Oct-01 | Synchronic Roulette | Liming Harbor |
| Oct-02 | Circular Logic | Ahimsa Park |
| Oct-03 | Basso Ostinato | Zephyr Concourse |
| Oct-04 | Synchronic Roulette | Liming Harbor |
| Oct-05 | Circular Logic | Ahimsa Park |
| Oct-06 | Basso Ostinato | Zephyr Concourse |
| Oct-07 | Synchronic Roulette | Liming Harbor |
| Oct-08 | Circular Logic | Ahimsa Park |
| Oct-09 | Basso Ostinato | Zephyr Concourse |
| Oct-10 | Synchronic Roulette | Liming Harbor |
| Oct-11 | Circular Logic | Ahimsa Park |
| Oct-12 | Basso Ostinato | Zephyr Concourse |
| Oct-13 | Synchronic Roulette | Liming Harbor |
| Oct-14 | Circular Logic | Ahimsa Park |
| Oct-15 | Basso Ostinato | Zephyr Concourse |
| Oct-16 | Synchronic Roulette | Liming Harbor |
| Oct-17 | Circular Logic | Ahimsa Park |
| Oct-18 | Basso Ostinato | Zephyr Concourse |
| Oct-19 | Synchronic Roulette | Liming Harbor |
| Oct-20 | Circular Logic | Ahimsa Park |
| Oct-21 | Basso Ostinato | Zephyr Concourse |
| Oct-22 | Synchronic Roulette | Liming Harbor |
| Oct-23 | Circular Logic | Ahimsa Park |
| Oct-24 | Basso Ostinato | Zephyr Concourse |
| Oct-25 | Synchronic Roulette | Liming Harbor |
| Oct-26 | Circular Logic | Ahimsa Park |
| Oct-27 | Basso Ostinato | Zephyr Concourse |
| Oct-28 | Synchronic Roulette | Liming Harbor |
| Oct-29 | Circular Logic | Ahimsa Park |
| Oct-30 | Basso Ostinato | Zephyr Concourse |
| Oct-31 | Synchronic Roulette | Liming Harbor |
| November | Weapon | Location |
| Nov-01 | Circular Logic | Ahimsa Park |
| Nov-02 | Basso Ostinato | Zephyr Concourse |
| Nov-03 | Synchronic Roulette | Liming Harbor |
| Nov-04 | Circular Logic | Ahimsa Park |
| Nov-05 | Basso Ostinato | Zephyr Concourse |
| Nov-06 | Synchronic Roulette | Liming Harbor |
| Nov-07 | Circular Logic | Ahimsa Park |
| Nov-08 | Basso Ostinato | Zephyr Concourse |
| Nov-09 | Synchronic Roulette | Liming Harbor |
| Nov-10 | Circular Logic | Ahimsa Park |
| Nov-11 | Basso Ostinato | Zephyr Concourse |
| Nov-12 | Synchronic Roulette | Liming Harbor |
| Nov-13 | Circular Logic | Ahimsa Park |
| Nov-14 | Basso Ostinato | Zephyr Concourse |
| Nov-15 | Synchronic Roulette | Liming Harbor |
| Nov-16 | Circular Logic | Ahimsa Park |
| Nov-17 | Basso Ostinato | Zephyr Concourse |
| Nov-18 | Synchronic Roulette | Liming Harbor |
| Nov-19 | Circular Logic | Ahimsa Park |
| Nov-20 | Basso Ostinato | Zephyr Concourse |
| Nov-21 | Synchronic Roulette | Liming Harbor |
| Nov-22 | Circular Logic | Ahimsa Park |
| Nov-23 | Basso Ostinato | Zephyr Concourse |
| Nov-24 | Synchronic Roulette | Liming Harbor |
| Nov-25 | Circular Logic | Ahimsa Park |
| Nov-26 | Basso Ostinato | Zephyr Concourse |
| Nov-27 | Synchronic Roulette | Liming Harbor |
| Nov-28 | Circular Logic | Ahimsa Park |
| Nov-29 | Basso Ostinato | Zephyr Concourse |
| Nov-30 | Synchronic Roulette | Liming Harbor |
| December | Weapon | Location |
| Dec-01 | Circular Logic | Ahimsa Park |
| Dec-02 | Basso Ostinato | Zephyr Concourse |
| Dec-03 | Synchronic Roulette | Liming Harbor |
| Dec-04 | Circular Logic | Ahimsa Park |
| Dec-05 | Basso Ostinato | Zephyr Concourse |
| Dec-06 | Synchronic Roulette | Liming Harbor |
| Dec-07 | Circular Logic | Ahimsa Park |
| Dec-08 | Basso Ostinato | Zephyr Concourse |
| Dec-09 | Synchronic Roulette | Liming Harbor |
| Dec-10 | Circular Logic | Ahimsa Park |
| Dec-11 | Basso Ostinato | Zephyr Concourse |
| Dec-12 | Synchronic Roulette | Liming Harbor |
| Dec-13 | Circular Logic | Ahimsa Park |
| Dec-14 | Basso Ostinato | Zephyr Concourse |
| Dec-15 | Synchronic Roulette | Liming Harbor |
| Dec-16 | Circular Logic | Ahimsa Park |
| Dec-17 | Basso Ostinato | Zephyr Concourse |
| Dec-18 | Synchronic Roulette | Liming Harbor |
| Dec-19 | Circular Logic | Ahimsa Park |
| Dec-20 | Basso Ostinato | Zephyr Concourse |
| Dec-21 | Synchronic Roulette | Liming Harbor |
| Dec-22 | Circular Logic | Ahimsa Park |
| Dec-23 | Basso Ostinato | Zephyr Concourse |
| Dec-24 | Synchronic Roulette | Liming Harbor |
| Dec-25 | Circular Logic | Ahimsa Park |
| Dec-26 | Basso Ostinato | Zephyr Concourse |
| Dec-27 | Synchronic Roulette | Liming Harbor |
| Dec-28 | Circular Logic | Ahimsa Park |
| Dec-29 | Basso Ostinato | Zephyr Concourse |
| Dec-30 | Synchronic Roulette | Liming Harbor |
| Dec-31 | Circular Logic | Ahimsa Park |