The Hype is Real!
COD MW2 Season 2 is almost here and with it comes a lot of updates and some changes for both Multiplayer and Warzone. In case you're a Wazone Pro and rekt everyone around you, check our guide on How to Launch a Nuke.
COD MW2 Roadmap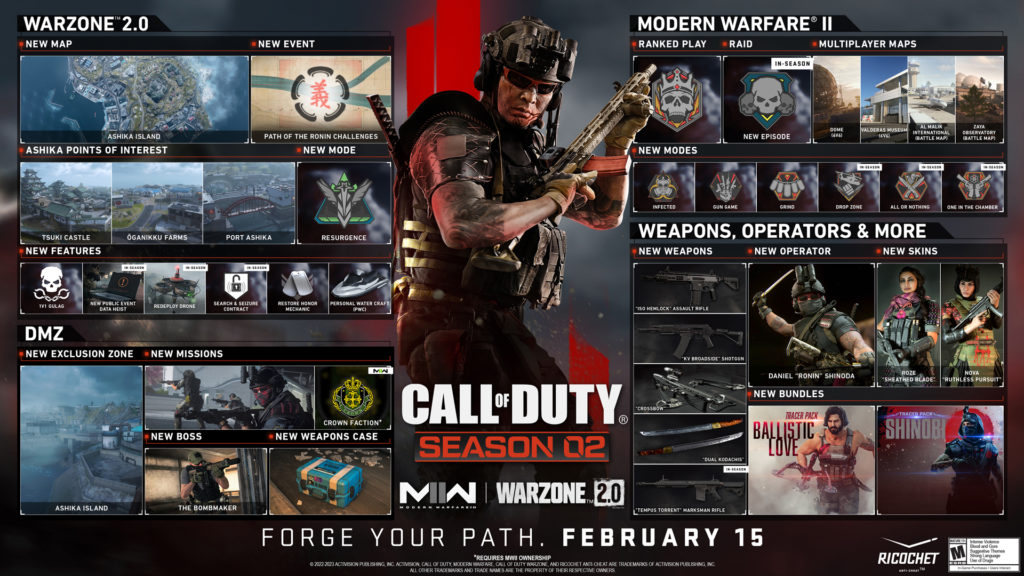 Warzone Updates
Save the date, 15th February! There are a lot of new things starting with Warzone:
New Map: Ashika Island
New Event: Path of the Ronin Challenges
New Mode: Resurgence
New Features: 1v1 Gulag, Public Event (Data Heist), Redeploy Drone, Search & Seizure Contract, Restore Honor Contract, Personal Water Craft
DMZ Updates
There're also some new updates to the DMZ Mode:
New Exclusion Zone: Ashika Island
New Missions
New Boss: The Bombmaker
New Weapons Case
COD MW2
New features are also coming to the multiplayer mode such as:
Ranked Play
Raid: New Episode
4 New Multiplayer Maps: Dome, Valderas Museum, Zaya Observatory, Al Malik International
6 New Modes: Infected, Gun Game, Grind, Drop Zone, All or Nothing, One in the Chamber
In this COD MW2 Season 2 there will be also new weapons, operators and new bundles!
In case you want to find some new friends to play or just share your thoughts you can always visit our Discord.