We feel like somebody is whatching them…
The countdown is ticking for the release of FIFA 23, the last one behind the FIFA brand and with it comes two new batches of FIFA 23 Ones to Watch (OTW) cards and FIFA players are already getting ready and startint to think about the best starting players to invest.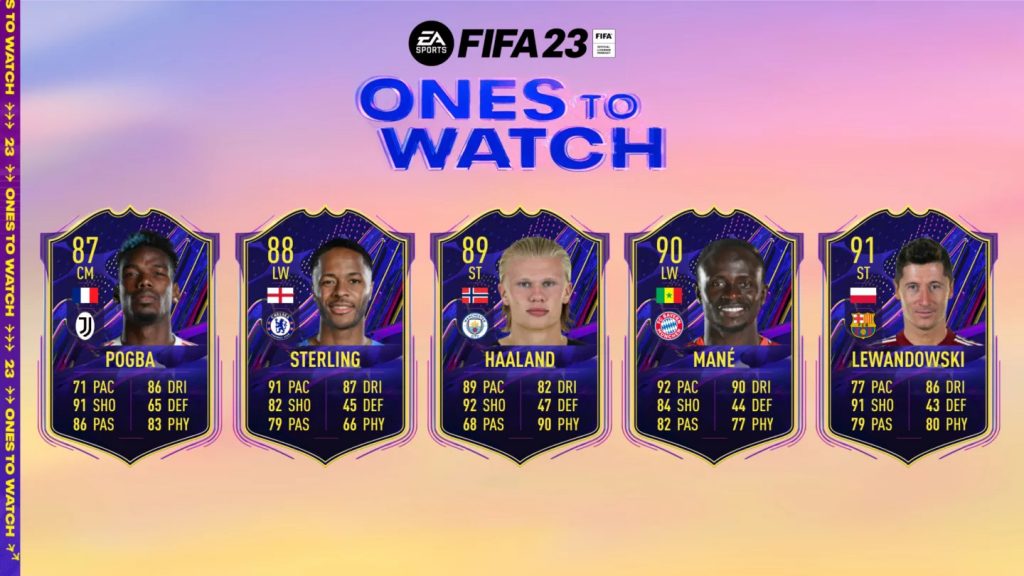 If you play any of the older FIFA you already know that a good start is halfway to success during the season because playing with stronger cards gives you a good chance to get better rewards and with that better cards.
Check the latest FIFA 23 Ratings Leaked.
How Do The OTW Upgrades Work?
There are 3 possible ways to get these upgrades.
Inform Card – if a player is included in the Team Of The Weak (TOTW);
Man Of The Match – special player item assigned to the most inform players from domestic cups and continental club tournament matches (MOTM);
Wins To Watch Upgrade – OTW players' teams had to win 5 of their first 10 league games after FIFA's realease.
FIFA 23 Ones To Watch Predictions
We can't guarantee all the OTW and 100% but considering past FIFAs we made a list with our predictions and their probability.
| Player | Old Club | New Club | Position | Probability |
| --- | --- | --- | --- | --- |
| Erling Haaland | Borussia Dortmund | Man City | ST | High |
| Antonio Rüdiger | Chelsea FC | Real Madrid | CB | High |
| Antony | Ajax | Man United | RW | High |
| Gabriel Jesus | Man City | Arsenal | ST | High |
| Sadio Mané | Liverpool | Bayern Munich | ST | High |
| Darwin Nunez | SL Benfica | Liverpool | LW | High |
| De Ligt | Juventus | Bayern Munich | CB | High |
| Robert Lewandoski | Bayern Munich | Barcelona | ST | High |
| Raheem Sterling | Man City | Chelsea FC | LW | High |
| Paul Pogba | Man United | Juventus | CM | High |
| Renato Sanches | Lille | PSG | CM | Medium |
| Gareth Bale | Real Madrid | LAFC | RM | Medium |
| Wesley Fofana | Leicester | Chelsea FC | CB | Medium |
| David Neres | Dynamo Kyiv | SL Benfica | RW | Medium |
| Draxler | PSG | SL Benfica | CAM | Medium |
| Koulibaly | Napoli | Chelsea FC | CB | Medium |
| Lorenzo Insigne | Napoli | Toronto FC | LW | Medium |
| Vitinha | FC Porto | PSG | CM | Low |
| Lisandro Martinéz | Ajax | Man United | CB | Low |
| Mateus Nunes | Sporting CP | Wolves | CM | Low |
| Tchouameni | Monaco | Real Madrid | CDM | Low |
| Lucas Paquetá | Lyon FC | West Ham | CM | Low |
| Angel Di Maria | PSG | Juventus | RW | Low |