Track all Seasonal Quests from Season 4 in Fortnite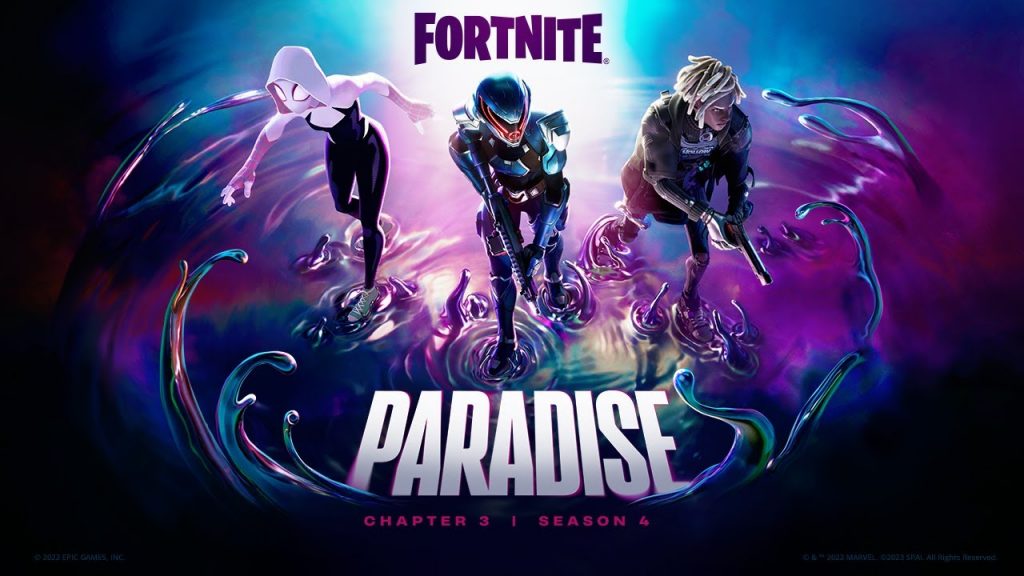 A new season has started in Fortnite, it's Season 4: Paradise. A strange metallic substance known as Chrome has invaded the island and threatens to consume everything. With this, the Battle Royale map has suffered some changes. Last season had some fun crossovers like Dragon Ball and Destiny 2, this time we'll have the Spider-Gwen from Into the Spider-Verse, among others. As usual new cosmetics are now available in the Battle Pass, to unlock them you just need to level up. A great help to progress quickly is the Fortnite Weekly Challenges that guarantee a large amount of XP. They will all be listed here as they are released each week.
All Fortnite Weekly Challenges
Every week will be added a new set of Challenges, also known as Seasonal Quests. We will update this article weekly to keep you updated with all quests. Fortnite Weekly Challenges appear every Thursday at 7 am PT | 10 am ET | 2 pm BST. You don't need to rush, all Seasonal Quests will stack up each week, so you have until the end of the season to complete them all.
Week 5 Quests
Collect and spend Bars in a single match (100)
Deal damage to opponents from above (500)
Deal damage to opponents with an Assault Rifle, Shotgun, and SMG in a single match (3)
Eliminate opponents at Reality Tree or Herald's Sanctum (2)
Gain health or shield by bouncing on Bouncy Slurpshrooms while chromed (1)
Use D-Launchers (3)
Visit Cloudy Condos then Reality Tree in a single match (1)
Week 4 Quests
Deal damage to Wildlife (1000)
Eliminate a Bounty Target with a Sniper Rifle or Marksman Rifle (1)
Headshot opponents with the EvoChrome Shotgun or EvoChrome Burst Rifle (15)
Open a Lock with a Key, and a Safe in a single match (2)
Survive Storm Phases (10)
Throw a Launchpad at Flutter Barn or Shimmering Shrine (1)
Use a Port-A-Bunker in different matches (2)
Week 3 Quests
Deal damage to Opponents with a Marksman Rifle from at least 75m away (150)
Deal damage to Opponents with SMGs or Assault Rifles (1000)
Deal damage to Supply Llamas (500)
Destroy Chrome Structures (100)
Gain shields from Jellyfish, Shield Fish, or Slurp Fish (200)
Land at The Driftwood & collect Bars (2)
Visit the Reality Tree and Herald's Sanctum in a single match (2)
Week 2 Quests
Open chests or ammo boxes inside The Driftwood (3)
Destroy structures and objects with the Explosive Goo Gun (30)
Eliminate opponents while chromed (3)
Gain shields at the Reality Tree (75)
Shoot targets while ziplining (3)
Damage players within 5 seconds of mantling (350)
Emote for 5 seconds in The Flairship (1)
Week 1 Quests
Bust through a door at Cloudy Condos and No Sweat Insurance (2)
Damage players with the Lever Action Shotgun or the Suppressed Submachine Gun (350)
Dislodge a Runaway Boulder with a slide kick (1)
Drive different types of chromed vehicles (3)
Hit opponents while sliding (10)
Hunt different kinds of wildlife (3)
Purchase an item from Panther, Mancake, or The Underwriter (1)
Week 0 Quests
Evolve EvoChrome weapons by dealing damage (5)
Knock down a Timber Pine & dislodge a Runaway Boulder in a single match
Deal damage to Loot Sharks using Shotfund (500)
Use Chrome Splash on a structure and phase through it within 5 seconds
Emote at The Flairship, The Driftwood, and No Sweat Insurance
Eliminate an enemy player within 5 seconds after sprinting while Chromed
Deploy a Port-A-Bunker a Named Location
Purchase from a Mending Machine
Eliminate an opponent with a pistol
Gain Shields (100)
When does Fortnite Chapter 3, Season 4 end?
Fortnite Chapter 3, Season 4 ends on December 03 of 2022. Remember that all weekly challenges can be completed until the end of the season, so you don't need to rush.