A lot of news!
There are a lot of news regarding The Division 2, there's a new Roadmap, there are new information about The Division Heartland and also about The Division Resurgence. So here's The Division 2 Year 5 Roadmap and btw don't forget to check our Reddit and Discord and if you're into other games like Outriders check our guides here.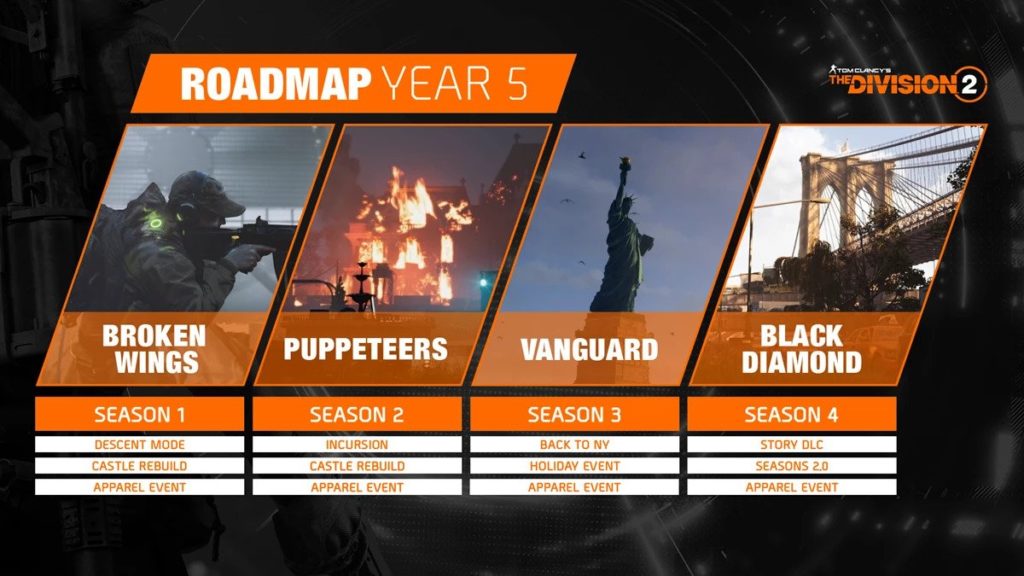 The Division 2 Year 5 Roadmap
Season 1 – Broken Wings
Season 1 starts April 25th and will introduce a new mode called Descent Mode, a new Apparel Event you'll be able to start the long-waited Castle Rebuild.
Season 2 – Puppeteers
Season 2 will introduce a new Incursion, the ending of Castle Rebuild and a new Apparel Event.
Season 3 – Vanguard
Season 3 will let you go back to NY, will introduce 2 new events: a Holiday Event and another Apparel Event.
Season 4 – Black Diamond
Season 4 will have a lot of changes with a new Season system called Season 2.0, a new Story DLC and probably a last Apparel Event with the present format.
Here at YourGamesTracker we will continue to grind to be fully prepared to face new foes and enemies in the following updates.