In the last week of the year, we have a new motorcycle, New Year's Gifts, special rewards, and discounts
We reached the last week of 2022 and the holiday-themed festivities continue in Los Santos. Enter the new year with a new electric motorcycle, the Western Powersurge, it is available in Legendary Motorsport for $1,605,000.
Get into Fooligan Jobs to earn special rewards:
Completing your first Fooligan Job will land you the Ice Vinyl and Ice Vinyl Cut jackets
Completing 10 Fooligan Jobs will net you both the Black and White Bigness Ski masks
Complete 25 Fooligan Jobs to receive the LS Smoking Jacket
Players who purchase the Equipment Upgrade for the Acid Lab will receive the Yellow SN Rooster Revere Collar party shirt
This week we have the Gauntlet Hellfire as a reward in The Car Meet Prize Ride. To get it you need to place in the top 3 in Street Races 3 days in a row.
If you feel lucky this week the Adder is featured on the Diamond Casino Lucky Wheel rewards. Usually, it can only be found at Legendary Motorsport for $1000,000.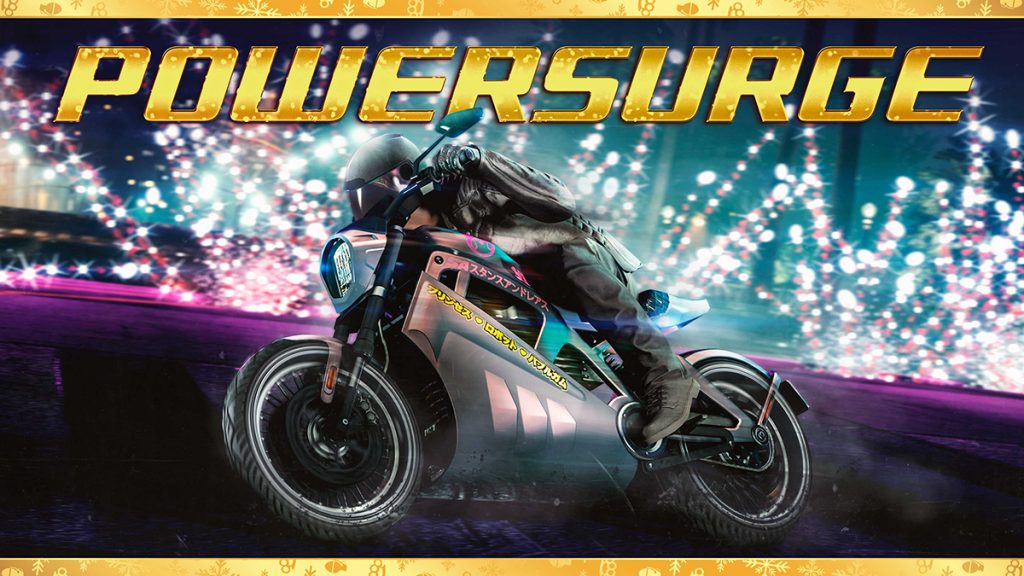 New Years Gifts:
Log in anytime this week in GTA Online to get these New Year's Gift:
Full Health
Full Armor
Full Snacks
25 Sticky Bombs
25 Grenades
5 Proximity Mines
10 Molotovs
Firework Launcher
20 Firework Rockets
Gold, Silver & Rainbow New Year Glasses
Yellow Holly Beer Hat
Luxury Autos cars
Simeon's Showroom cars
Kamacho
Futo GTX
Brawler
Dubsta 6×6
Outlaw
2x GTA$ and RP on GTA Online
If you want to maximize your cash and RP gains, this week has the following activities.
3x RP and GTA$:
Drop Zone Adversary Mode
Ron Contact Missions
Air Freight Cargo Sell Missions
2x RP and GTA$:
Short Trips
Biker Sell Missions
GTA Online discounts
30% Off
Hangars & Renovations
Kamacho ($241,500)
Trophy Truck ($385,000)
Dominator GTX ($507,500)
Futo GTX ($834,750 – $1,113,000)
Stinger ($595,000)
GP1 ($882,000)
Dubsta 6X6 ($174,300)
Blazer Aqua ($924,000 – $1,228,920)
Rogue ($840,000 – $1,117,200)
Volatol ($1,960,000 – $2,606,800)
Pyro ($2,345,000 – $3,118,850)
NX-25 ($682,500 – $907,725)